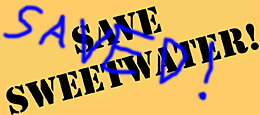 Salvemos a Sweetwater del amiguismo interesado que sólo vela por sus intereses y no por el de los alumnos o el de los electores. ¿No sería fabuloso tener una junta educativa que anteponga los intereses de los alumnos al de sus socios o contribuyentes financieros?.

El Comité Salvemos a Sweetwater se formó para extirpar de raiz esta corrupta red de cómplices y sustituirla con personas que de corazón velen por los intereses legítimos de los habitantes y alumnos del distrito.


Vindication
Sweetwater District Sued from Texas
Chula Vista Schools' east-side-west side divide
New Leadership Moving Forward VIDEO
Sweetwater Trustee Arlie Ricasa To Resign
Sweetwater district spent big for Arne Duncan visit
SUHSD Ventures Into For-Profit Education
Corruption Not Limited to SUHSD
The Money Trail Gets Longer
Wheeling and Dealing at Sweetwater
No Contribution Limits for Board Members
Sweetwater Violating State Public Records Act
Sweetwater's Wierd, Failed Real Estate Deals
Donna Frye Visits Sweetwater
Sweetwater Seeks to Silence Opposition
Mar Vista Grads Protest Sweetwater Board Member VIDEO
Chopra, Dominguez, Salcido Indicted as Corruption Case Widens
School Board Charges Grow More Serious
26 Felony Charges in Sweetwater Case
Profiles of those charged in Sweetwater case
District Attorney's Affidavit
Contractors fund Sweetwater school board race
Greg Sandoval's Resignation Stands
Board Member Greg Sandoval Resigns after Sexual Harrassment Allegations
Retaliation; A Familiar Sweetwater Story
Grand Jury Report on Sweetwater
County Auditors Report on Sweetwater
This Guy's A Principal?
En Espanol
Who Ya Gonna Call?.